Welcome to Centerline Candles
Centerline Candles is a small, independently owned and operated boutique company that creates exclusively hand-poured, wood wick candles.  Our soy/paraffin wax provides a cleaner burn than traditional paraffin candles and our customers tell us "they burn forever and smell amazing." 
Centerline Candles plans to remain a boutique candle company that hand-pours all of it's products.  Every ounce of our success depends on the spectacular people surrounding us and we thrive on the personal connections we make with our customers.  We don't ever want to lose that!  In fact, we want to get to know you even better....and create even more scents that bring back memories of the precious time spent with your favorite four-legged friends.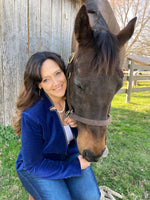 Meet the founder - Tammy
Hi guys! My name is Tammy Platt and I am the founder, candle maker and one-woman-band that makes up Centerline Candles.  This is my "side-hustle" when I am not working for a large multi-national animal health company or spending time at the barn.

I came out of the womb being horse-obsessed and the obsession has only grown with time.  I have been involved with horses since as far back as I can remember, and have done everything from western pleasure, hunter/jumper, colt-starting and team roping to re-starting ex-racehorses.  I am currently attempting to be an Eventer, but due to a whole lot of life, I haven't made it beyond BN...one of these days.  I am loving the journey and just so beyond grateful for every ride. 

Our sense of smell is a powerful thing...its so amazing to me how one whiff of something can tickle our emotions so fiercely.  This is what drove me to develop the equine-inspired scents that are the cornerstone of Centerline Candles. If you don't happen to be a horse person, I promise I have LOTS of non-horsey scents as well.  
What people are saying about Centerline Candles
Centerline Candles are literally the epitome of smell good wood wick candles.

I love these things. Candles are like crack to me and these things smell up my whole house which doesn't happen with the large scale candle makers. Consider me a repeat customer!

Kaley
I love this candle! Probably my favorite candle ever. I am so glad I found you guys.

Drakon Farm
I used to be a huge BWW candle consumer but I will never buy another after the wonderful wood wick candles from Centerline. The variety of scents, clean burn, and horsey themes have made me a Centerline Candles lifer!

Sara